Card to trash
Move card to trash?
Feedback / Contact
Tell us your opinion about Repetico or ask your question!
faq In case of a question, please have a look at our Help page to see if the question has been answered already
Follow us on Facebook!
Upgrade now to Repetico PRO!
Get the Repetico PRO account now, with a lot of useful features which let you study even more efficiently.
Unlimited creating of cardsets
Create up to 2000 cards per cardset
No limitation to 2 cardsets in your schedule
Create multiple choice cards
Reminder mail with individual time management
Detailed learning statistics
Empty trash
No advertisements from third parties
Export of all you cardsets in one archive file
Invite friends
By inviting friends, you can earn Repetico PRO for yourself - click here to learn how exactly!
E-Mail-address (press Enter for new line)
Study flashcards online & mobile!
Create cards on your own or as a team

Buy cardsets from leading publishers

Use the automatic study schedule
Memorize all of your study material, improve your grades and pass your exams!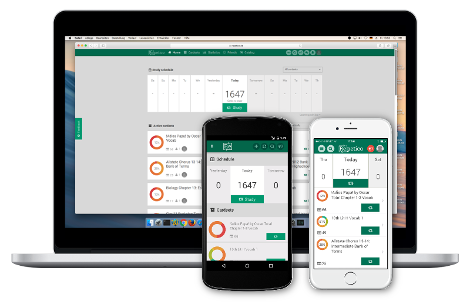 Create and study your flashcards
Create flashcards or multiple choice questions

Repeat with an intelligent and automatic schedule

Memorize your study content successfully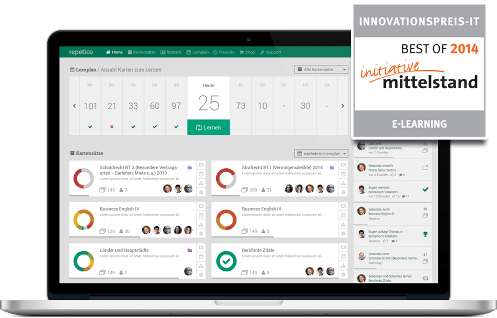 Study together with your friends
Create flashcards in a team

Track the study activities of your friends

Discuss with your friends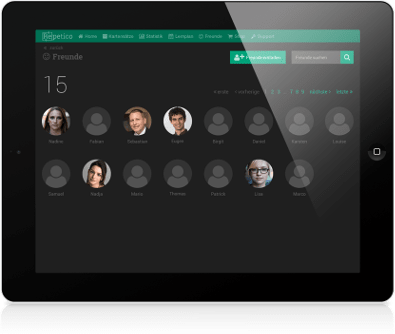 Study everywhere
Synchronise your flashcards on all devices.

Online & on Android and iOS devices
More information
Benefits of the digital flashcard tool Repetico:
Create flashcards and multiple choice questions online
Study online and with your mobile devices (iOS and Android)
Effective repetition with the spaced repetition of Repetico
Invite your friends to create and study flashcards together
Detailed study statistics to track your study success
Be in touch with your study pals at Repetico and motivate each other
Synchronize your study material and study progress
Discuss with others about your flashcards
Get invited to flashcards by your friends
Add comments to your flashcards
Share your study success via Facebook and Twitter
Import and export your content from other file formats